Dear Parents & Guardians, The focus of the Portsmouth City School District is to provide quality education in an environment that is as safe as possible for both students and staff. With the increasing cases of COVID-19 and hospitalizations across our county and region, the district has made the decision to move to all remote learning starting on Thursday, December 10, 2020. Remote learning will continue through Friday, January 8, 2021. Christmas break will start on December 19, 2020, and continue through January 3, 2021. The district will use the week of January 4, 2021, to evaluate and make a decision on returning to our blended learning model. As of now, Scioto County Career Technical Center students still are attending school as scheduled. During this time of all remote learning, teachers will be available for office hours throughout the district. The office hours will be from 8:30am-10:30am and also from 12:30pm-2:30pm. The teachers can be reached through a phone call, email, or an available online platform such as GoGuardian. During these unprecedented times, we will continue to do our best to educate your children. These decisions never come easy and are never made without much consideration. As always, let's continue to work together during these difficult times. Attention Seniors: Those seniors that are taking End of Course exams during December 2020, through January 8, 2021, continue to report to the High School during your required testing dates and times only. Portsmouth City Schools will continue providing meals each week for our students while they are learning from home. Breakfast and lunch packs will be distributed on the following dates: • Wednesday, December 9, 2020 • Monday, December 14, 2020 • Wednesday, December 16, 2020 • Monday, January 4, 2021 • Wednesday, January 6, 2021 You may pick up the food packs at the following locations on dates above: • Portsmouth High School- Student Parking Lot Entrance- (9th Street side) • Portsmouth Elementary School- Glover Street Side of building • East Portsmouth Elementary- back entrance You may also pick up the food packs from school buses located at: • Farley Square- 14th Street and Waller Street • Kendall Heights- Wayne Avenue close to main office • Pizza Hut Parking Lot- Scioto Trail • Apostolic Gospel Church Parking Lot- 2037 Jackson Avenue If you receive Power Packs- they will be distributed on Wednesdays at the locations above as well. We remain committed to providing meals for our students while they learn from home. If you have questions, please contact Portsmouth City Schools at 740-354-5663.

Mylee's Mission Saturday, December 5th Groups at 11:00am and 1:00pm Parking Lot at PHS/PJHS (correction from previous post)

Congratulations to M. CONLEY AND M. DUNCAN for being selected as the 2020 Heisman Award for High School Scholar-Athletes The Heisman Trophy Trust and Acceptance Insurance announce the 2020 School Winners for the Heisman High School Scholarship presented by Acceptance Insurance. The Heisman Trust Committee selected M. Conley and M. Duncan to represent their high school. National winners will be selected by Monday, November 9, 2020.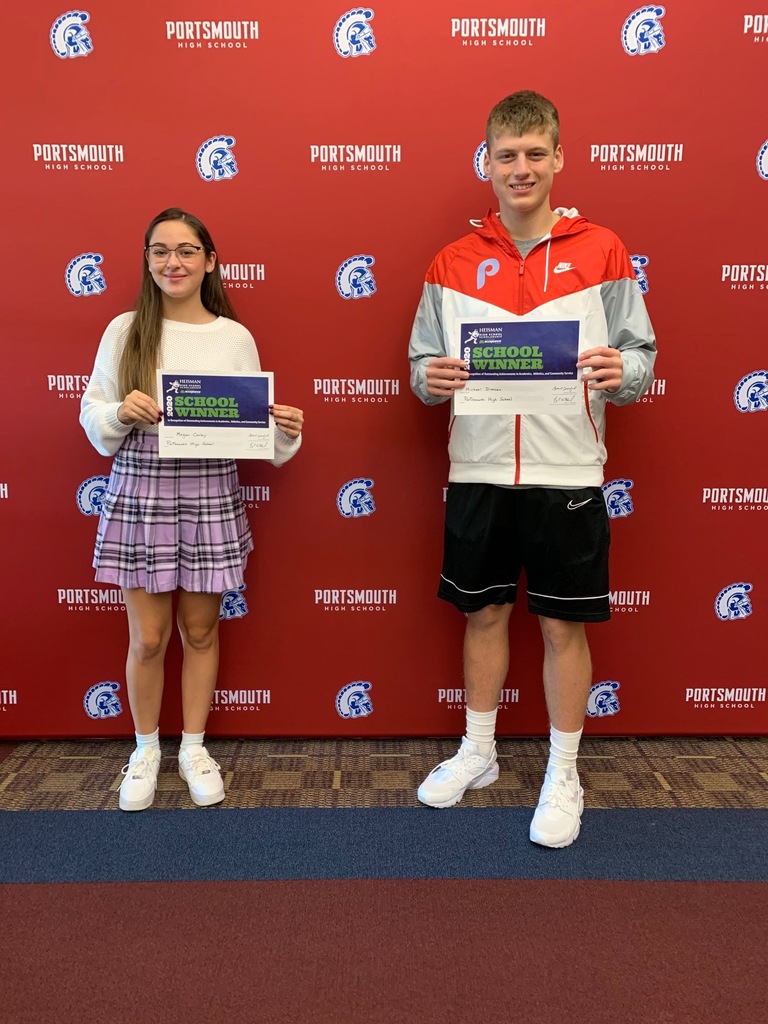 Today, Scioto County will move to RED in Ohio's COVID-19 advisory system. Portsmouth City Schools will remain on the current schedule of blended learning. Students coming to school in person will continue to come to school on their scheduled two days they are currently attending. Thanks!

This is a reminder that students need to check in online by 10:00am each day in order to not to be counted absent and also complete all assignments in their Google Classroom by the deadline set by your teacher.

Portsmouth City Schools meal plan for TVA.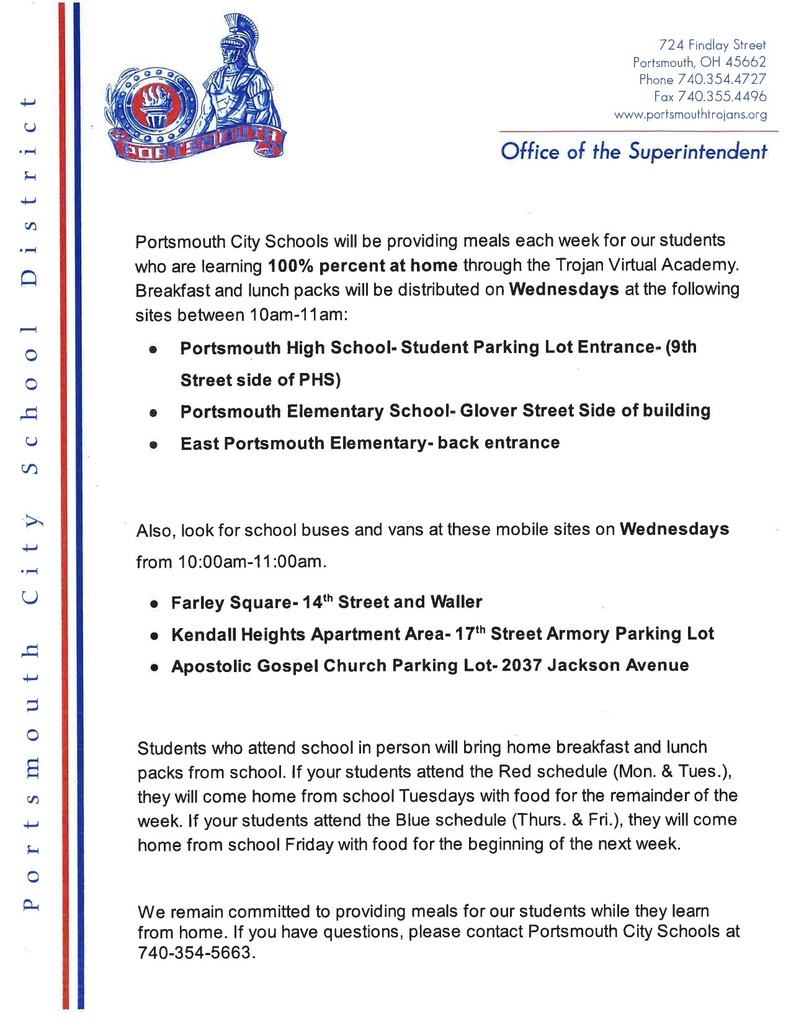 Portsmouth kindergarten graduation pictures are in!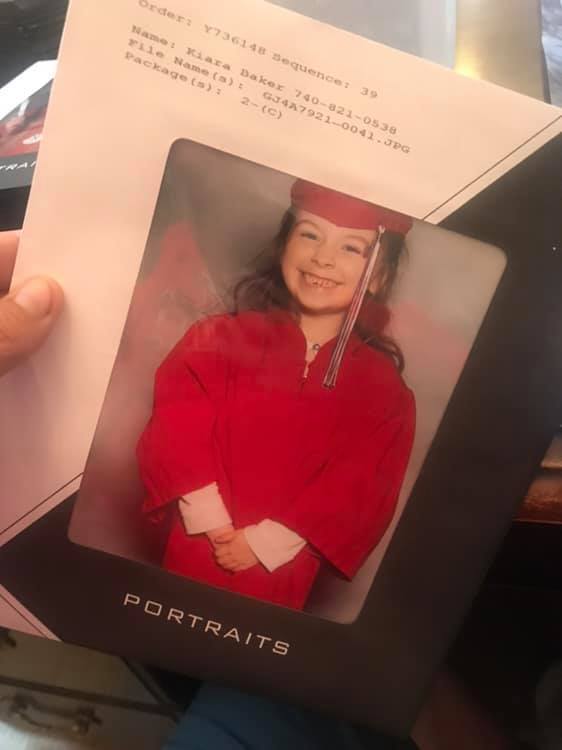 The deadline to apply for College Credit Plus classes through Shawnee State University has been extended to AUGUST 1. Application may be found at shawnee.edu/areas-study/college-credit-plus. Please sign up for an appointment with an SSU advisor prior to applying:
https://calendy.com/hbender

Congratulations to Noah Fannin (PHS) and Karen Porter (PES) for receiving the 2020 Portsmouth Elementary/High School Outstanding Teacher Award! To be eligible for this award, the teachers must show evidence of distinguishing themselves in a scholarly interrelationships with his or her students.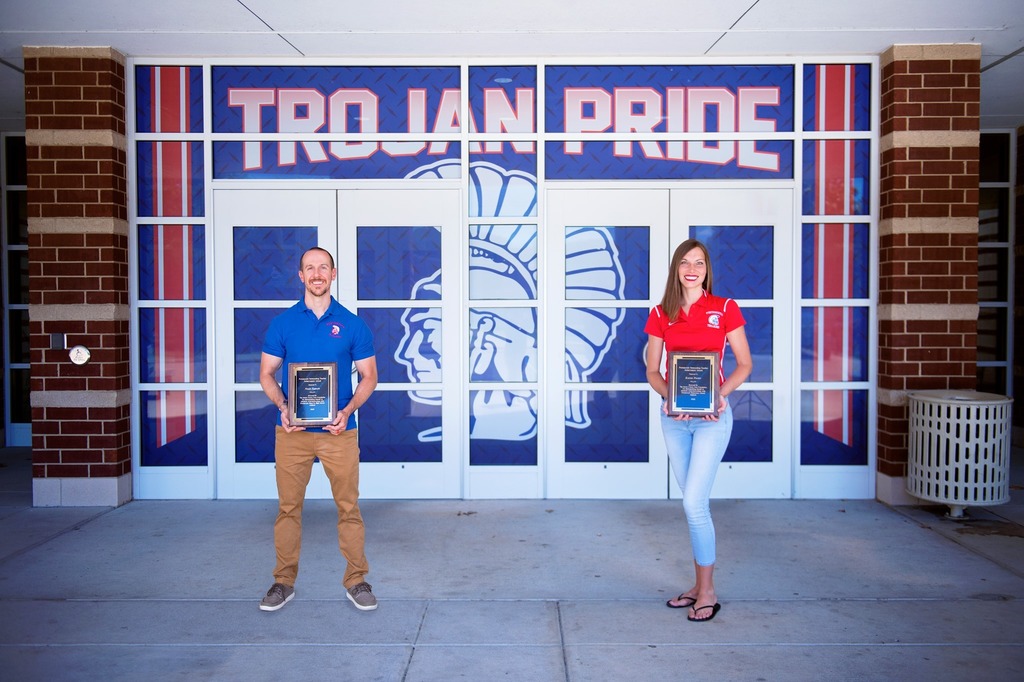 Attention Trojans going into 1st-6th grade next fall- The summer iReady challenge began June 15th! PES and EPE will be giving prizes to the top 3 students in each grade level who pass the most iReady quizzes between then and August 1st!!!! We will post weekly updates every Monday! Go Trojans! ❤️💙

Farmers Market Produce Giveaway Schedule: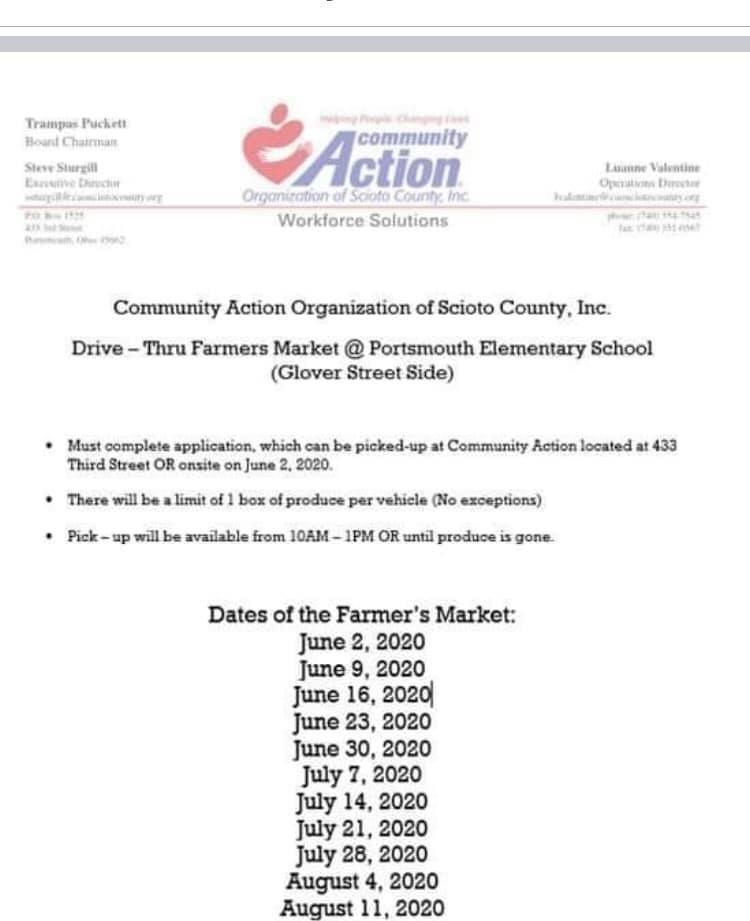 The CAO summer farmers market is in the Portsmouth Elementary School's cafeteria side parking lot. It will be available every Tuesday from 10am until it runs out. 🍎 🥦 🥕 🥛 🧀

Portsmouth Jr. High Cheer Tryouts! Anyone going into 7th or 8th grade who is interested in trying out for cheerleading, email
karen.mcgraw@portsmouthtrojans.net
. Coach McGraw will contact you. You can cheer and still play other sports-soccer, volleyball, swim, etc. You cannot cheer and play basketball, but you can still cheer for football. Go Trojans ❤️📣

If there are any high school girls interested in playing on the girls tennis team in the Fall, please contact Coach Downey at:
kevin.downey@portsmouthtrojans.net
Even if you have never played tennis before, you are encouraged to come and try it. A tennis racket will be provided for you if you do not have one. Thank you!

Check out this flyer for information on how to purchase your 2019-2020 PHS yearbook!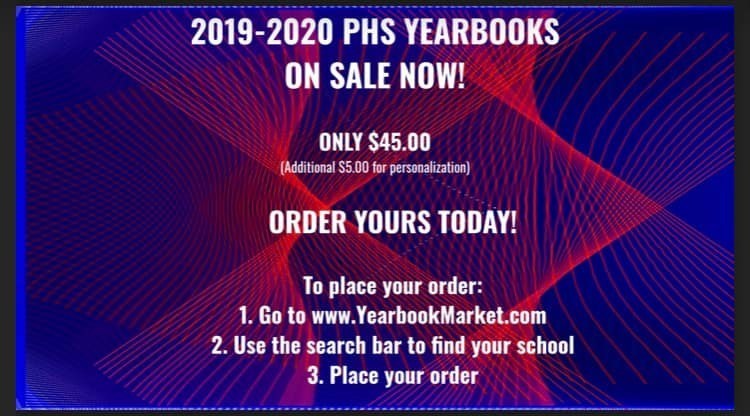 Below is the schedule for locker cleanout for PHS/PJHS. Students, please make sure you get all personal belongings and place all textbooks outside the teachers' room . Seniors- May 11th Juniors- May 18th Sophomores- May 19 Freshmen- May 20th 8th Grade- May 21st 7th Grade- May 22nd Students are to report in Grades 7-12 for locker cleanout as designated below: Time Last Name 9:00-9:15 A.M. A through B 9:15-9:30 A.M. C 9:30-9:45 A.M D through F 9:45-10:00 A.M. G through H 10:00-10:15 A.M. I through L 10:15-10:30 A.M. M through N 10:30-10:45 A.M. P through O 10:45-11:00 A.M R through S 11:00-11:15 A.M. T through Z (all students enter through the front door )


Kindness Adventure Assembly at EPE!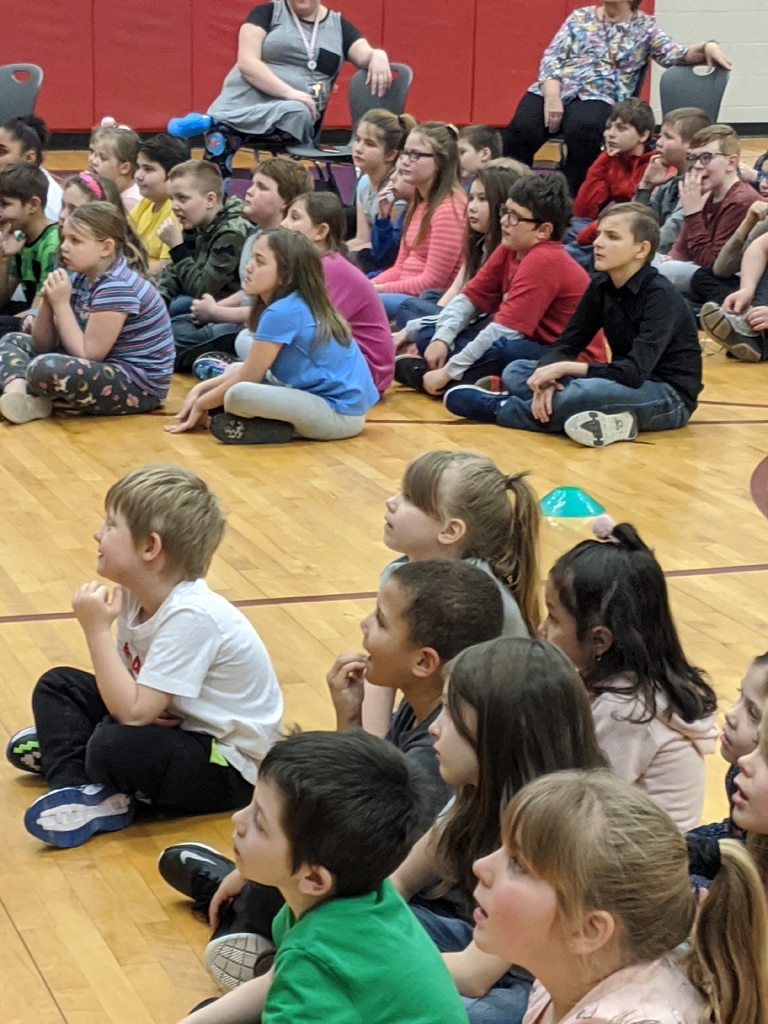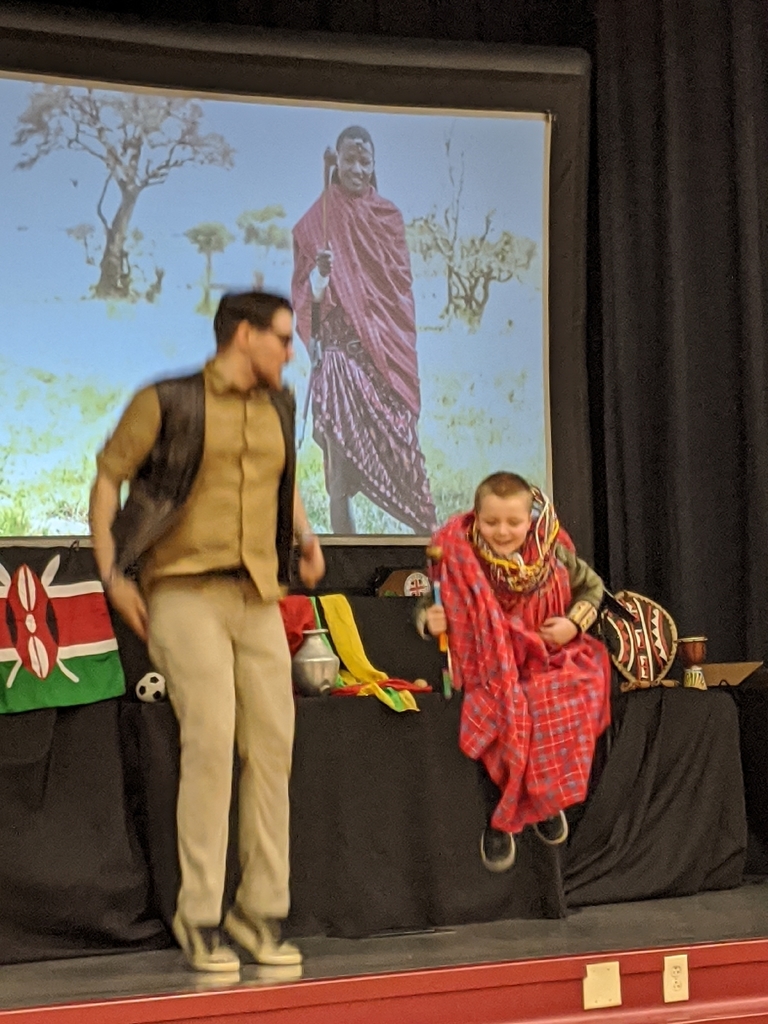 Spelling Bee Winners